Sexy times! Check out the Northern Territory baby. With the Devils Marbles, Ayers Rock and the UFO Capital of Australia, Wycliffe Wells - this trip is an adventure in to the whacky desert scene.
The Northern Territory was created 37 years ago by giant camels. These camels decided they wanted to get away from the cities and start their own desert community. So they lived around the Kata Tjuta area, until it became too smelly (they had no giant camel toilets!). This giant petrified camel waste is now known around the world as Ayers Rock and 40 minutes to the West, the Olgas. Moving north along the Stuart Highway, these giant camels continued to deficate on the land – creating modern natural marvels such as the Devils Marbles and the MacDonnell Ranges.
Modern day camels are much smaller and roam the highways of the Northern Territory looking for giant trucks to jump in front of.
If you don't like camels, then don't worry – there's heaps of other cool shit to see – including desert and some rocks. No seriously – it's freakin rad, the colours, the characters, the sunsets and sunrises – the Northern Territory is one of my favourite places in the world and I reckon you'll dig it too!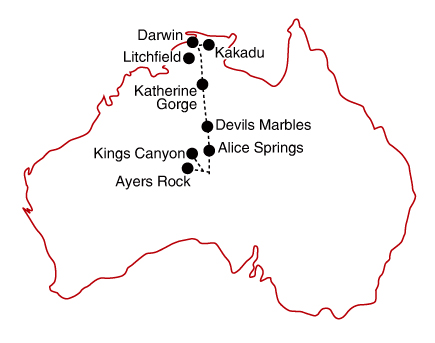 Spots to check out include:
Kakadu National Park - 170km East of Darwin, Kakadu is a natural wonderland, famous for giant waterfalls, giant crocodiles and well, just being giant (it's half the size of Switzerland!).
Litchfield National Park - approximately 100km South-West of Darwin, Litchfield is rich in natural beauty, with waterfalls (particularly Wangi Falls) and massive magnetic termite mounds!
Katherine Gorge & Nitmiluk National Park - check out the magnificent Katherine River and the immensity of the Katherine Gorge.
Karlu Karlu / Devils Marbles Conservation Reserve - also a must-see formation, the Devils Marbles is approximately 400km north of Alice Springs, with great cultural and spritual importance to the Aboriginal people of the region.
Alice Springs - the township of Alice Springs is a vibrant little outback community with colourful characters all enclosed within the magnificent MacDonnell Ranges.
If you have time after all this, head on down to Ayers Rock (approx 500km South-West of Alice Springs) and Kings Canyon for 2 nights and explore the real beating heart of the Australian Outback. It's a great little Campervan hire tour that takes in the vastness of the Stuart Highway.
Frequenty Asked Question Darwin to Alice Springs
How old do you have to be to hire a Campervan in Darwin to Alice Springs?
You need to be at least 18 years old to be able to hire a Campervan in Darwin to Alice Springs, Yes you can hire a Wicked Camper just using a valid drivers license from your country. An International License is not required.
Can I choose my campervan hire design?
Customers are welcome to put in a request for the design on the camper which we will try our best to accommodate if available. However as a lot of our hires are one way it is not guaranteed. Customers are also welcome to request a 'tame' van if travelling with children etc.
What is the cheapest campervan hire in Australia?
On average, one can hire a 2-berth campervan for $50 for a day. The price depends on the season and availability.
Do you have any suggestions for places to travel?
Sure! Just look in our Trip Ideas section there's plenty of good ideas!