Get on out and see some wild shit man! Kakadu and Litchfield are famous around the world for 3 things: Crocodiles, waterfalls and locals who drink tonnes of beer. Sweet!
Kakadu is not a croc of shit...it's is the real deal! Pickup a Wicked 4WD or Campervan from the Wicked Darwin Depot and cruise on out to Kakadu National Park for 3 Days & 2 Nights. Kakadu is a living cultural landscape. Generations of Bininj/Mungguy have lived on and cared for this country for tens of thousands of years. Their spiritual connection with the land is globally recognised in Kakadu's World Heritage listing. The natural and cultural heritage of Kakadu has also been identified as a key element of Australia's great National Landscapes.
And there's crocodiles...tonnes of the bastards.
Jim Jim Falls is a 200 m (660 ft) high waterfall located in the Kakadu National Park, in the Northern Territory, Australia. It is believed that 140 million years ago much of Kakadu was under a shallow sea. The prominent escarpment wall formed sea cliffs and the Arnhem Land plateau formed a flat land above the sea. Today the escarpment, which rises to 330 metres (1,080 ft) above the plains, extends over 500 kilometres (300 mi) along the eastern side of the Park and into Arnhem Land.
It's an amazing sight - and a great place to cool off and take a swim!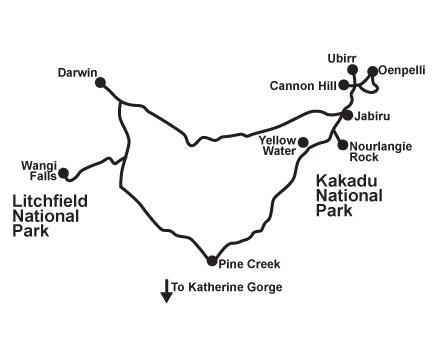 Frequenty Asked Question Kakadu & Litchfield
How old do you have to be to hire a Campervan in Kakadu & Litchfield?
You need to be at least 18 years old to be able to hire a Campervan in Kakadu & Litchfield, Yes you can hire a Wicked Camper just using a valid drivers license from your country. An International License is not required.
Can I choose my campervan hire design?
Customers are welcome to put in a request for the design on the camper which we will try our best to accommodate if available. However as a lot of our hires are one way it is not guaranteed. Customers are also welcome to request a 'tame' van if travelling with children etc.
What is the cheapest campervan hire in Australia?
On average, one can hire a 2-berth campervan for $50 for a day. The price depends on the season and availability.
Do you have any suggestions for places to travel?
Sure! Just look in our Trip Ideas section there's plenty of good ideas!