The very South-West extreme of Australia is a mix of lush green vineyards and barren desert. With blue-azure ocean and white sandy beaches, Albany is the perfect place to spend a weekend...or longer!
Wave Rock, near the wheatbelt town of Hyden, is one of Australia's most recognisable landforms.Rising 15 metres from the ground and more than 100 metres long, Wave Rock looks like a giant surf wave of multicoloured granite about to crash onto the bush below. It's believed this amazing formation was more than 2,700 million years in the making!
The town of Margaret River is the perfect escape from the hustle and bustle of the city lifestyle. Offering top-notch wining and dining, the creature comforts do not have to be left behind to enjoy the stunning, picturesque landscape characteristic of the south west. With stunning beaches, majestic forests, spectacular caves and a cosmopolitan lifestyle Margaret River will please even the most discerning visitors.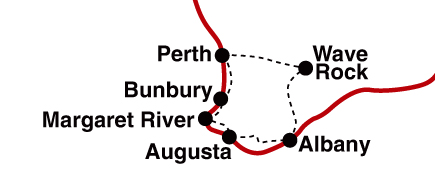 417km south-east of Perth, Albany is a 5hr 30min drive on the Albany Highway. Rugged coastline and a dramatic convict past gives this town a massive point of difference. Walking along the coastline is a great way to experience this town. Stop by Muttonbird Island before heading to Whale World, Albany's Whaling Museum. Learn more about the town's interesting history at the Princess Royal Fortress Museum.
Frequenty Asked Question Alabany Loop
How old do you have to be to hire a Campervan in Alabany Loop?
You need to be at least 18 years old to be able to hire a Campervan in Alabany Loop, Yes you can hire a Wicked Camper just using a valid drivers license from your country. An International License is not required.
Can I choose my campervan hire design?
Customers are welcome to put in a request for the design on the camper which we will try our best to accommodate if available. However as a lot of our hires are one way it is not guaranteed. Customers are also welcome to request a 'tame' van if travelling with children etc.
What is the cheapest campervan hire in Australia?
On average, one can hire a 2-berth campervan for $50 for a day. The price depends on the season and availability.
Do you have any suggestions for places to travel?
Sure! Just look in our Trip Ideas section there's plenty of good ideas!