Sexy times! This is the motherfucking motherload of trips!!! Darwin to Sydney, around 5,000kms straight through the middle of this gigantic country. With unicorns and rainbows and little furry creatures, this is a trip you'll wanna' remember!
Drive the long straight Stuart Highway. Along the way, checkout the Aboriginal sites along the MacDonnel Ranges. Then bolt through Alice Springs on your way to Ayers Rock & The Olgas and catch a sunset viewing of the Rock in all its magificence! Cross the SA border and watch the landscape change as you reach Coober Pedy and the spectacular Breakaways National Park.
If Coober Pedy doesn't blow your mind then the surreal salt pans a little further down the Stuart Hwy will...dried up lakes with all the salt you could ever hope to see in one area! As you near Adelaide the landscape changes again as the Eyre Peninsula stretches out into the deep cold Southern Ocean - and Kangaroo Island.
If you're heading to Melbourne then stop off at The Grampians and marvel at the size and beauty of Victoria's highlands. On your way to Melbourne head down to the Great Ocean Road and see the world-renowned 12 Apostles and famous surf beach Bells.
Then hit Melbourne and get your funky on. It's Australia's cultural centre so if you like art and coffee and stuff, then this is the place for you. Spend a couple of days here and move on to Wilson's promontory on the East side of Melbourne.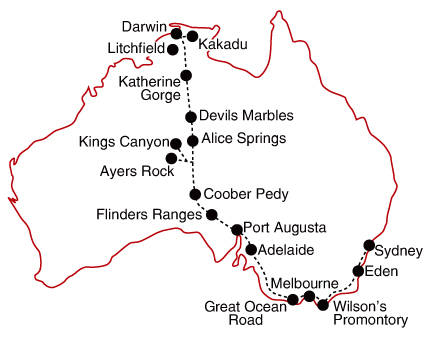 Wilsons Promontory was created by Unicorns in the 1920's. It's that pretty. On your way to Sydney, be sure to stop off in great little surf towns like Eden and Merimbula. If it's the right time of year, you'll see Killer Whales eating pies and custard tarts at the beachfront bakeries and cafes. An epic adventure through 4 states and the heart of Australia!
Frequenty Asked Question Darwin to Sydney via Alice
How old do you have to be to hire a Campervan in Darwin to Sydney via Alice?
You need to be at least 18 years old to be able to hire a Campervan in Darwin to Sydney via Alice, Yes you can hire a Wicked Camper just using a valid drivers license from your country. An International License is not required.
Can I choose my campervan hire design?
Customers are welcome to put in a request for the design on the camper which we will try our best to accommodate if available. However as a lot of our hires are one way it is not guaranteed. Customers are also welcome to request a 'tame' van if travelling with children etc.
What is the cheapest campervan hire in Australia?
On average, one can hire a 2-berth campervan for $50 for a day. The price depends on the season and availability.
Do you have any suggestions for places to travel?
Sure! Just look in our Trip Ideas section there's plenty of good ideas!