Yep it's a pretty wild trip. The West Coast is waaaay different to the East Coast. For the most part it's desert meets ocean, red rock on white sands. But inbetween are some of the most incredible natural landscapes on Earth.
Monkey Mia has dolphins a plenty as they feed in the calm, protected waters of Shark Bay. The surf up and down this region is world class – and for most part you can find somewhere on the beach for the night. The Pinnacles are another Australian icon, as are the emu's that wander the highways.
It's a rugged, beautiful trip and definitely one you won't ever forget – particularly off the track spots like Green Head and Kalbarri. It's all your to explore in your sexy wicked campervan hire thingy...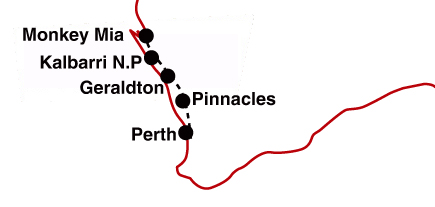 Frequenty Asked Question Monkey Mia
How old do you have to be to hire a Campervan in Monkey Mia?
You need to be at least 18 years old to be able to hire a Campervan in Monkey Mia, Yes you can hire a Wicked Camper just using a valid drivers license from your country. An International License is not required.
Can I choose my campervan hire design?
Customers are welcome to put in a request for the design on the camper which we will try our best to accommodate if available. However as a lot of our hires are one way it is not guaranteed. Customers are also welcome to request a 'tame' van if travelling with children etc.
What is the cheapest campervan hire in Australia?
On average, one can hire a 2-berth campervan for $50 for a day. The price depends on the season and availability.
Do you have any suggestions for places to travel?
Sure! Just look in our Trip Ideas section there's plenty of good ideas!